B05 "Domesticity"
$5.00
I adore the sweet little Golden Crowned Kinglets that flutter around outside my studio. They are tiny, adorable, and have little fear of humans as they busy themselves gathering nesting material or finding snacks. If I'm in the way they just hop around or, occasionally, on me as they continue their work. This little drawing was my honoring of the domestic nature of my Kinglet friends.
Available as Notecard only.
Description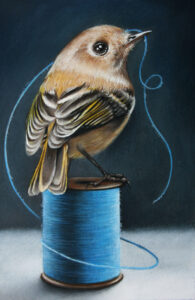 Image only available as Notecard.
Limited Edition Print – SOLD OUT