B01 "Genealogy"
$5.00
This will always be an important drawing for me. It was the beginning of my path to producing narrative art and it also holds so many things that are dear to me personally. All the books used in this vignette are from my collection, tattered and worn by my hands. Of special note is "The Sand County Almanac" by Aldo Leopold, a book that I treasure and reminds me of my time working as a field biologist. It has been my great joy that over the years I have been fortunate to meet several family members of Aldo Leopold, who have graciously purchased the prints and cards, and I have been able to share with them how much this book means to me.
Available as Notecard only.
Description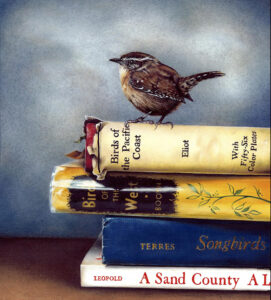 Image only available as Notecard.
Limited Edition Print – SOLD OUT